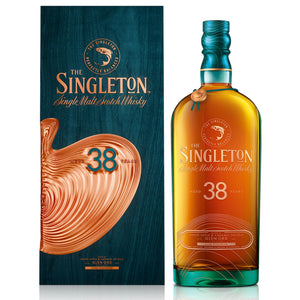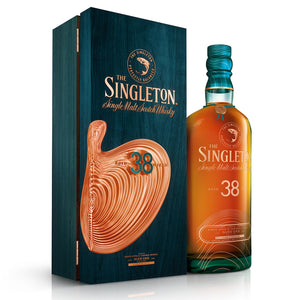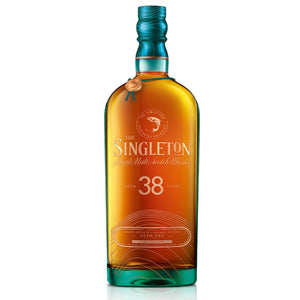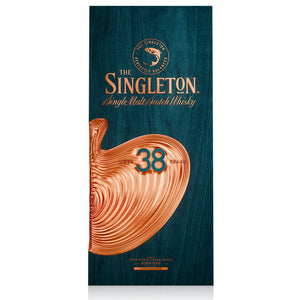 The Singleton 38-year-old is a rare and irresistibly rich single malt Scotch whisky drawn from just eight casks from The Singleton of Glen Ord distillery.

The Singleton holds a vision to create exceptional scotch whiskies, exploring numerous possibilities to create whiskies with outstanding taste, depth and harmony. Twenty-six years ago, The Singleton's award-winning Master of Malts Maureen Robinson discovered an elegant 12-Year-Old Single Malt with huge potential. To unlock the depth of character she envisioned, Maureen and her team decided to add a second maturation, rehousing the whisky in a number of experimental casks of ex-Bourbon, Pedro Ximenez Oloroso Seasoned casks and brand new American Oak casks. This special combination of casks was hand-selected to seek out a perfect harmony of delectable flavours. The whisky within the matrix of casks was left to mature for over a quarter of a century, until Robinson deemed it ready. The longer she left it, the greater the richness revealed, making it the longest secondary maturation in The Singleton history, a journey presenting a new realm of taste for The Singleton.

The result of this epicurean odyssey is an irresistibly rich Scotch whisky, with a refinement and depth that bursts with layers of indulgent flavour. The seductive aromas and flavours of baked apples drizzled with caramel and dusted with autumnal spices offer a delectable balance, which are both elegant and tantalizing. By pushing boundaries in service of great taste and finishing the whisky not for months, or years but for decades in special curated casks, The Singleton has created something surprising and unique that deserves to be savoured and enjoyed by gastronomes around the world.

Only 1,689 bottles of The Singleton 38-Year-Old, Single Malt Scotch Whisky are available worldwide.
×
This is an approximate rendering, actual position of engraving will be on the back of the bottle.
Personalise Your Bottle
Make this product extra special for yourself or create the perfect gift with an engraved message. Please input up to three lines of text for your message. Engraving Available in English and Chinese.
Guidelines on message content:
No foul, hate or discriminatory language
Nothing to suggest inappropriate consumption of alcohol, i.e. consumption by those below legal purchase age
Any mention of names in the message should have a valid reason doing so
Please select an engraving before agreeing to the Terms of Service.
Tasting Notes
APPEARANCE
Rich, deep amber with copper lights. Outstanding beading and good viscosity.
NOSE
Mellow and generous overall. The immediate top notes are rich, fruity and sweet, with aromas of red apple, mango, pineapple and candied citrus fruits. These fruity tones are soon succeeded by almond oil and vanilla pod, and later vanilla fudge, on a base of sandalwood. A drop of water opens the nose a little, while keeping the same profile.
BODY
Full.
PALATE
At natural strength, a thick, creamy texture and a vibrant, sweet start in which rich opening notes of fudge lead smoothly into a lightly spicy, intense and fruity taste suggesting cinnamon-spiced baked apple, drying gently into an autumnal peppery warmth that envelopes the palate. Appreciably deeper in taste than its younger siblings, it shows the classic Singleton smoothness, being richly flavoured, well balanced and easy to drink straight. The palate opens to reveal hints of orange citrus while with a dash of water more sweet flavours of vanilla ice cream and caramel fudge are perfectly balanced by just a trace of salt, still with a light touch of that Szechuan pepper warmth.
FINISH
Really long; a sweet warmth suffuses the whole palate and leaves the palate tingling as a trace of gingery spice lingers. With water lighter and longer, still leaving the memory of that rich warmth.