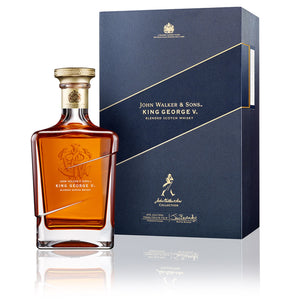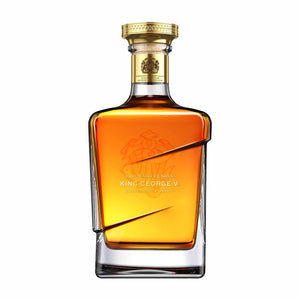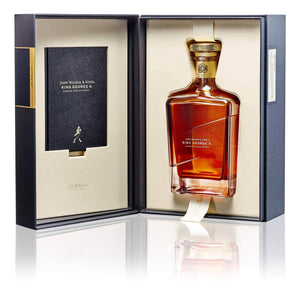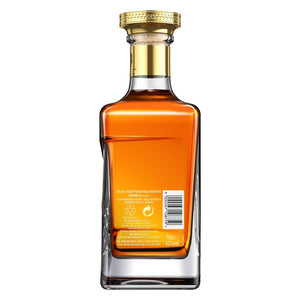 John Walker & Sons King George V is an exceptional whisky, crafted to celebrate the granting of the first Royal Warrant to John Walker & Sons by King George V in 1934.
Drawing on almost 200 years of knowledge, a peerless archive of records, and decades of experience, our small team of expert blenders, led by Master Blender Jim Beveridge, hand-select precious casks of whiskies from distilleries that were in existence during King George V's reign including whiskies from Benrinnes, Caol Ila, Cardhu and the now silent Port Ellen and Port Dundas.
Having hand-selected these individual whiskies, our dedicated team of blenders skillfully bring them together to reveal an indulgent depth of flavour – an abundance of spice and dried fruits greets you, balanced perfectly with notes of creamy vanilla sweetness, rich fruits, dark chocolate, toffee and a beautiful, intense Islay smoky finish.
Serving Suggestion:
Best enjoyed neat.
×
This is an approximate rendering, actual position of engraving will be on the back of the bottle.
Personalise Your Bottle
Make this product extra special for yourself or create the perfect gift with an engraved message. Please input up to three lines of text for your message. Engraving Available in English and Chinese.
Guidelines on message content:
No foul, hate or discriminatory language
Nothing to suggest inappropriate consumption of alcohol, i.e. consumption by those below legal purchase age
Any mention of names in the message should have a valid reason doing so
Please select an engraving before agreeing to the Terms of Service.
Tasting Notes
Nose
Sweet, smoky aromas deepened by Port Ellen are followed by notes of orange and Mediterranean fruits and the rich fruit spiciness - raisins, figs and cinnamon – of malts from across Scotland matured in European and American oak.
Palate
Rich in texture, on the palate there's an abundance of spice and dried fruits from the Speyside and Highlands whiskies with European oak character, balanced by creamy vanilla sweetness from the malts and grains matured in American oak, together releasing layer upon layer of flavour: sweet fruits, dark chocolate, toffee, spices and roast nuts.
Finish
Port Ellen intensifies the maritime Islay smokiness that gathers momentum through the exceptionally long, warming finish with hints of spice and pepper.