Exceptional Moments
The most exceptional whiskies merit serious exploration.
Deepen and enrich your whisky tasting experience through a series of exceptional moments.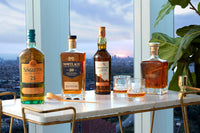 We invite you to indulge in an extra special exploration of our Rare & Exceptional collection.
As we embrace the festive season, we look to create Exceptional Moments with the people we love. Moments that will be remembered for years to come. When curating these unforgettable memories, curating the best food and drink is key.
To celebrate the ending of another year, start with a carefully crafted cocktail and indulge in whisky and dessert pairing to close the perfect evening. Or why not gift this exceptional moment to others with a bottle of iconic Single Malt Scotch Whisky.
The Singleton 25 Year Old
PAIR WITH A DARK CHOCOLATE TORTE

Cut through the beautifully balanced, fruity palate of The Singleton 25 Year Old with a bittersweet and delicious Dark Chocolate Torte. This rich dessert not only provides the perfect pairing for such a sumptuous Single Malt, but a beautiful backdrop which allows layers of spice to sing.
Mortlach 20 Year Old
IN A DECADENT OLD FASHIONED

Amplify the delicious depth and complexity of this Single Malt through a decadent Old Fashioned. This beautiful balance of sharp and sweet stirs something within to reveal rich and robust notes of citrus and wood spice that give way to layers of jam, gingerbread, and liquorice.
Purchase Mortlach
Decadent Old Fashioned by Ewan Gunn
Here's how to make it:

1. Add sugar, bitters, and water to a mixing glass and muddle until the sugar dissolves. 2. Add some ice and Mortlach 20, stirring for a few minutes. 3. Strain into a rocks glass with a large block of ice and garnish with a cherry and a slice of orange peel.
John Walker & Sons King George V
PAIR WITH A MADAGASCAN VANILLA CREME BRULEE

A precious blend of hand-selected casks from Benrinnes, Caol Ila, Cardhu, Port Ellen and Port Dundas distilleries, John Walker & Sons King George V is a sophisticated symphony of sweet, smoke and smoke. Enjoy with indulgent Madagascan Vanilla Creme Brulee to elevate notes of roast nuts, dried fruit, and cinnamon spice.
Purchase Now
Talisker 25 Year Old
IN AN EXTRAORDINARY OCEAN POINT

A special serve for only the most adventurous flavour seekers. Venture where sweet meets bitter when you try your Talisker 25 Year Old in an Ocean Point cocktail. This delicately balanced drink unfurls the rugged Talisker flavour profile to reveal uncharted depths of distant smoke and citrus.
Purchase Now
Talisker Ocean Point Cocktail
Here's how to make it:

1. Add 50ml of Talisker 25-Year-Old, 10ml of Yellow Chartreuse (gentian liqueur), 25ml of sweet Vermouth, one dash of orange bitters, and one dash of Angostura bitters to a stirring glass. 2. Stir well and strain into a coupe glass. Garnish with a twist of lemon. This serve is also easy to make in advance. Dilute with 15% water and put it in the fridge ahead of serving, pouring straight into a frozen glass. This sophisticated cocktail is perfect for after a meal.