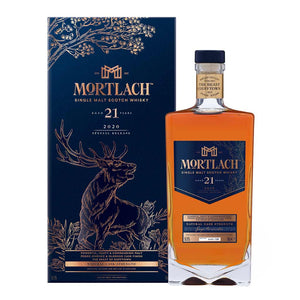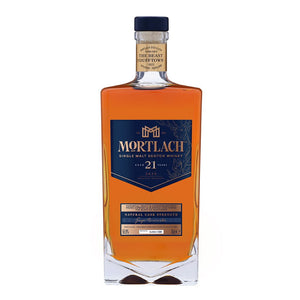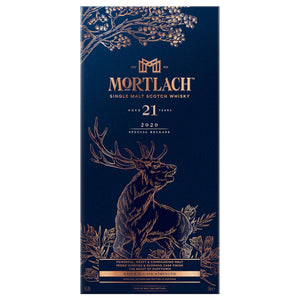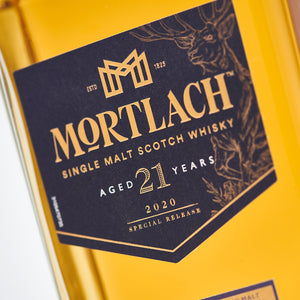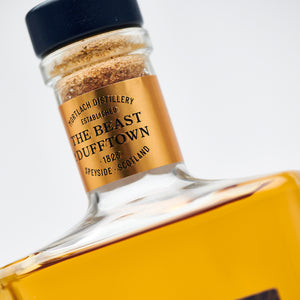 This Mortlach was matured for rich distillery character in small batches then carefully finished in Pedro Ximenez and Oloroso-seasoned casks to build yet more levels of aroma and taste. At once smooth, sweet and savoury, the many-layered outcome mirrors the complexity of the mysterious Mortlach 2.81 distillation itself.
Called the "The Beast of Dufftown" for its robust, meaty nature, little known Mortlach may be the best-kept secret in Scotch. Bold flavours are the mark of this special breed, distinguishing it as the monarch of its glen as surely as the bellow of a mature red deer stag. The aromas run deep, swirling with dark dried fruits and savoury, meaty notes. The texture is super-smooth, the intense taste is sweet with rich fruit and cured ham, building to a lingering spicy-dryness. Long and impressive, the finish truly emphasizes this harmony of sweetness and spice, leaving the palate dry in a glorious afterglow.
A rare release with very limited availability of 7,692 bottles worldwide.
×
This is an approximate rendering, actual position of engraving will be on the back of the bottle.
Personalise Your Bottle
Make this product extra special for yourself or create the perfect gift with an engraved message. Please input up to three lines of text for your message. Engraving Available in English and Chinese.
Guidelines on message content:
No foul, hate or discriminatory language
Nothing to suggest inappropriate consumption of alcohol, i.e. consumption by those below legal purchase age
Any mention of names in the message should have a valid reason doing so
Please select an engraving before agreeing to the Terms of Service.
Tasting Notes
Appearance
Deep gold with amber lights. Good beading.
Nose
A mellow, rounded, nose with some prickle. The first impression is of rich, dried fruits, and beneath this fresh-baked buttered scones, perhaps spread with lime marmalade. Soon this becomes lightly savoury and meaty but retains a slight citric note. A drop of water modifies the latter and reduces the aroma.
Body
Medium to full.
Palate
At natural strength, mild for its strength and super-smooth in texture, while the wonderfully rich mouth-filling taste is immediately sweet overall with dried fruits, then intense and savoury with a surprising kick of chili pepper as it goes down. Magnificently feral and delicious. Drying overall, with rich tannins. Similar with a dash of water, which raises a little more sweet, spiced fruit.
Finish
Seemingly endless and deeply impressive, with the fruit and savoury notes in perfect agreement and a warming glow spreading across the palate. Finally leaving the palate dry, yet still wreathed in a glorious rich afterglow.