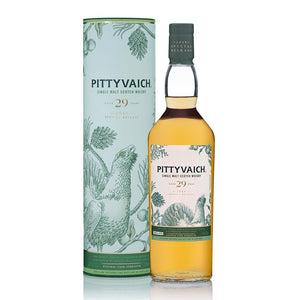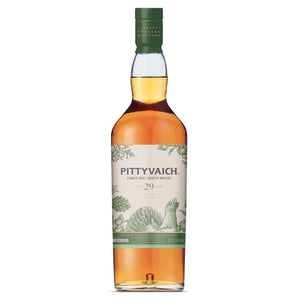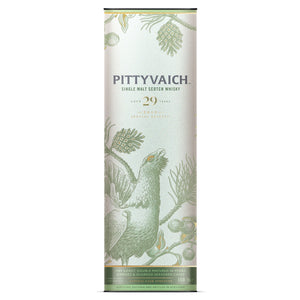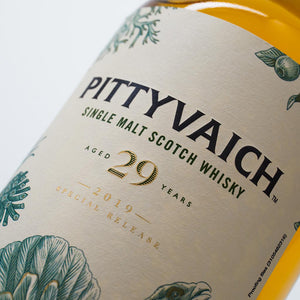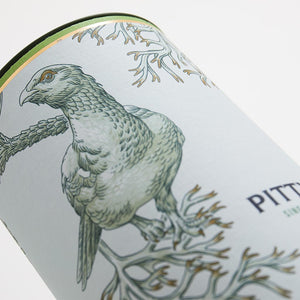 A 'ghost' or closed distillery that worked only 18years, before falling victim to industry consolidation in 1993, Pittyvaich has now vanished. Its dwindling stock is as rarely sighted today as the shy capercaillie found in Scottish pine forests.
This small batch of 1989 Pittyvaich is the first release double matured in Pedro Ximenez and Oloroso seasoned casks. These have brought an exotic, rich, fruity depth to the light, golden aromas and flavours of the distillery character. 
The aroma is mellow yet shy, with delicate fruitiness and dried flowers, beneath which lies a note of buttery sponge. The texture is ultra-smooth, the taste rich with the dried fruit sweetness of golden sultanas. It becomes spicy with gunpowder tea and is drying overall. The long, smooth finish closes in a shake of powdered ginger.
A very rare high-aged release of only 4,976 bottles available from a closed distillery.
×
This is an approximate rendering, actual position of engraving will be on the back of the bottle.
Personalise Your Bottle
Make this product extra special for yourself or create the perfect gift with an engraved message. Please input up to three lines of text for your message. Engraving Available in English and Chinese.
Guidelines on message content:
No foul, hate or discriminatory language
Nothing to suggest inappropriate consumption of alcohol, i.e. consumption by those below legal purchase age
Any mention of names in the message should have a valid reason doing so
Please select an engraving before agreeing to the Terms of Service.
Tasting Notes
Appearance
Deep gold, with orange lights. Very good beading.
Nose
A mellow nose overall, with very light prickle; lightly nose drying, with first faint and delicate impressions of fruitiness and dried flowers, beneath which there's a note of buttery sponge. A drop of water enhances the dried flowers, brings up the sweetness and adds spicy touches of sweet ginger and hardwood shavings.
Body
Medium to full.
Palate
At natural strength, mouth-filling and ultra-smooth in texture. The taste is immediately rich and very sweet, with light dried fruits; golden sultanas in light liquor. It quickly becomes spicy, with tannic gunpowder tea in mid palate, and is drying overall. Similar though softer with water, when sweet toffee can be discerned.
Finish
Long, smooth and spicy, finishing with a shake of powdered ginger and a lingering, embracing warmth. With water, smoother.