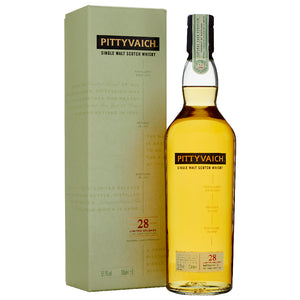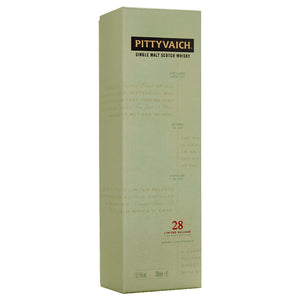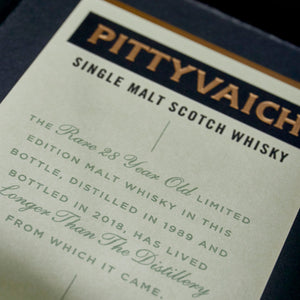 From a closed distillery, the oldest 1989 Pittyvaich yet in this series, with only 4,680 bottles available worldwide. Complex and compelling; light and straightforward, yet also full-flavoured and forceful.
Opened in 1975, Pittyvaich was one of the shortest-lived distilleries ever built on Speyside; the innocent victim of industry restructuring, it closed in 1993 through no fault of its whisky. The stills were an exact replica of those at Dufftown, though their pleasing single malt is rarely seen today. The name is Gaelic and may refer to an early dwelling on the site, a 'farmstead at the birch wood', though the distillery was very much a state of the art modern building in its day.
×
This is an approximate rendering, actual position of engraving will be on the back of the bottle.
Personalise Your Bottle
Make this product extra special for yourself or create the perfect gift with an engraved message. Please input up to three lines of text for your message. Engraving Available in English and Chinese.
Guidelines on message content:
No foul, hate or discriminatory language
Nothing to suggest inappropriate consumption of alcohol, i.e. consumption by those below legal purchase age
Any mention of names in the message should have a valid reason doing so
Please select an engraving before agreeing to the Terms of Service.
Tasting Notes
Appearance
Old gold, lightly oily. Good beading.
Nose
Dense and mellow. Compellingly simple. Waxy, then slow sweet, gingery cake above traces of lemon zest, honey and fresh mint on ripe red apple. Later, fruit salad with banana and sweet vanilla with coconut, ground almond becoming sharply fruity.
Body
Light, with a slowly deepening viscosity.
Palate
Immediate and direct. Smoothly coating and sweet, with a warming pungency. Dark toffee and spice; notes of salt and flint. Then toasty, with hints of apple strudel and toasted coconut; marzipan, chocolate, heather and menthol.
Finish
Gentle and warming, with pepper. Oily, pungent and sweetly mint-cool with hints of burnt pastry, cedar wood and smoke. Slowly drying and very long.