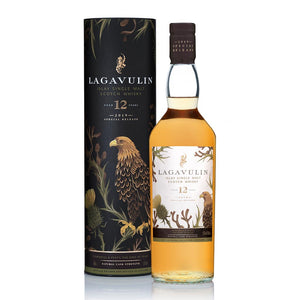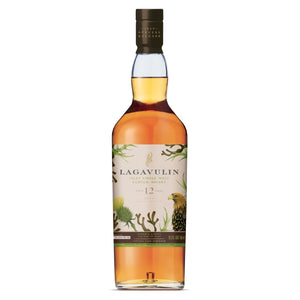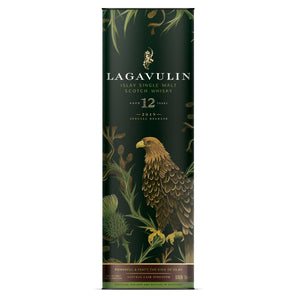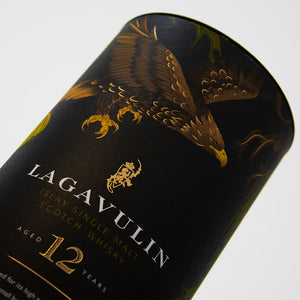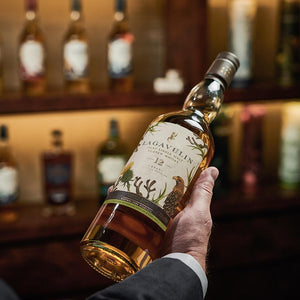 Lagavulin is an iconic Islay malt, its intense and smoky spirit steeped in history for over 200 years. Nestled in a rocky bay still dominated by a ruined castle that was once home to the Lords of the isle, it seems as much their modern day success as the white-tailed eagle that soars high above the sea and shore nearby.
Selected for its high peating level, this unique and small batch of Lagavulin has been matured in traditional refill American oak casks; the result is a perfect expression of distillery character, rounded yet proudly dimmed by time. A special batch of cask-strength Lagavulin 12 year old from American oak refill casks has been bottled in this series every year since 2002. Variations between the different batches to date, which have often been vatted from whiskies at least 12 years old, make for a fascinating comparison.
×
This is an approximate rendering, actual position of engraving will be on the back of the bottle.
Personalise Your Bottle
Make this product extra special for yourself or create the perfect gift with an engraved message. Please input up to three lines of text for your message. Engraving Available in English and Chinese.
Guidelines on message content:
No foul, hate or discriminatory language
Nothing to suggest inappropriate consumption of alcohol, i.e. consumption by those below legal purchase age
Any mention of names in the message should have a valid reason doing so
Please select an engraving before agreeing to the Terms of Service.
Tasting Notes
APPEARANCE
Bright gold, polished brass. Good beading.
BODY
Medium.
NOSE
A mild nose overall, with light prickle. Classic Lagavulin. The nose is highly phenolic, with clean, fresh top notes of medical supplies, all on an ashy base, reminiscent of a recently extinguished peat fire. A savoury note and a mineral, maritime note; sea air, tarry ropes, seaweed, sand. With water, the last comes to dominate, quietly.
PALATE
At natural strength, smooth in texture and unexpectedly sweet, intense and very smoky from the off. With light acidity, a sprinkle of sea-salt and a very smoky finish, long and warming. A little salt, no pepper. Benchmark distillery character throughout, exactly as is expected from a Lagavulin 12 year old. At reduced strength the taste remains the same.
FINISH
Long, warming, sweet and delightfully smoky. Lightly drying, leaving the breath smoky. With water, sweeter and smoother, though the smokiness reasserts itself at the close.