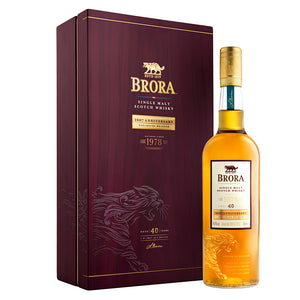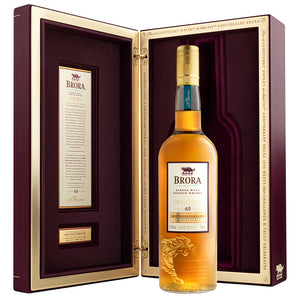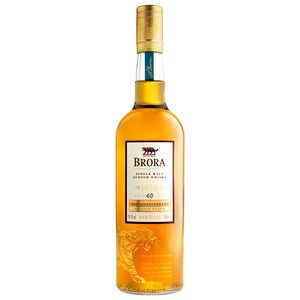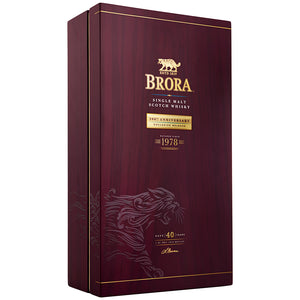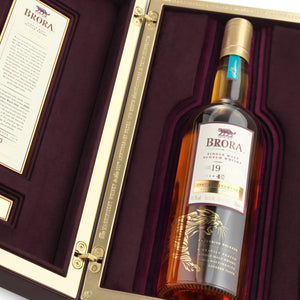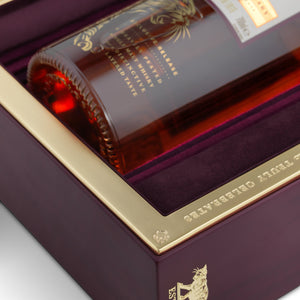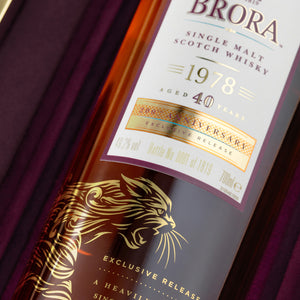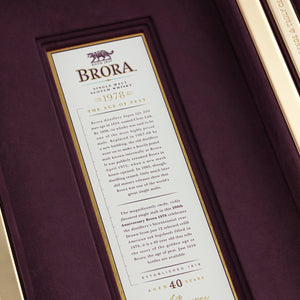 A commemoration of Brora's 200th Anniversary, this rare release from our diminishing reserves offers our connoisseurs a glimpse of our past, a taste from a moment in time. A golden age at Brora; the Age of Peat.
Nestled on the North East coast of Scotland, Brora is an iconic malt distillery with an avid cult following. Its reputation as a truly special Single Malt Scotch is due to its supreme quality and uniquely rich and peaty flavour profile, combined with its increasing scarcity, having ceased production in 1983 becoming a 'ghost' distillery.
This edition of Brora is a fine, elegant old coastal malt with rich fruit sweetness and compelling smokiness, held in perfect balance and a vibrancy remarkable for its age.
×
This is an approximate rendering, actual position of engraving will be on the back of the bottle.
Personalise Your Bottle
Make this product extra special for yourself or create the perfect gift with an engraved message. Please input up to three lines of text for your message. Engraving Available in English and Chinese.
Guidelines on message content:
No foul, hate or discriminatory language
Nothing to suggest inappropriate consumption of alcohol, i.e. consumption by those below legal purchase age
Any mention of names in the message should have a valid reason doing so
Please select an engraving before agreeing to the Terms of Service.
Tasting Notes
Appearance
Clear amber. Fine long beading. Good viscosity.
Nose
Cautious, with slight pickle at first, then sweet, smoky- peat wafts of treacle toffee, smoke with iodine. Rich, sweet fruit. Ripe figs. Raisins. Fire and brimstone. With water, hessian sacking, fine tweed, notes of the warehouse; all lightly harmonious, with elements of land, sea and sky.
Body
Medium, smooth.
Palate
An exquisitely smooth, lightly waxy texture and a powerful, rich, darkly sweet, savoury then finally smoky taste, with great balance, length and persistence. Richly winey and fruity throughout, with dried figs and dates. Spiciness and growing smoky warmth; white pepper.
Best straight but also deliciously drinkable with a dash of water, which adds to the sweetness and brings up a minty note; suggesting mint imperials, whilst dialling back the darker character. All this is still underpinned by a smokiness that is also held more in check but still very much present.
Finish
Long, rich and sweetly warming, with more white pepper, subsiding to leave a lightly smoky aftertaste. With water, much sweeter and more mint-cool, and at the very end lightly drying.