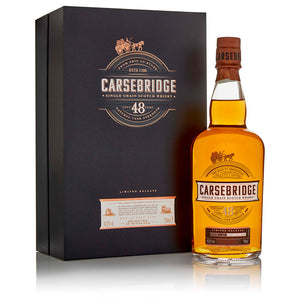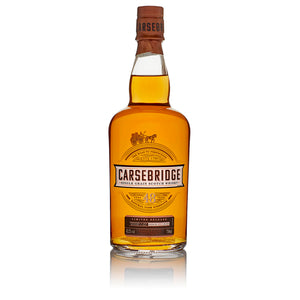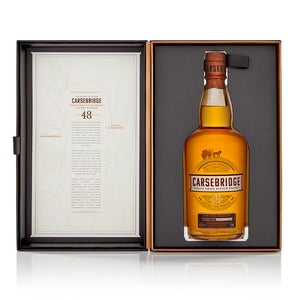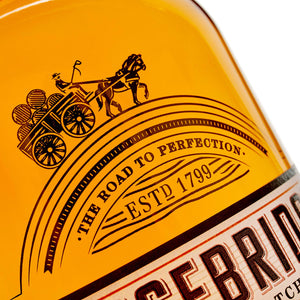 The first release in this series of just 1,000 bottles of this ultra-rare grain whisky from a closed distillery, is also the oldest Carsebridge ever bottled. A fascinating whisky, it's a unique, sophisticated and subtle old single grain that rewards patient study.
Originally established as a malt distillery in 1799, Carsebridge converted to produce grain whisky after 1850, when grain arrived by ship at Alloa Harbour and was unloaded by hand onto horse-drawn carts for the laborious journey to the distillery. Despite this, a generation later this was one of the largest distilleries in Scotland and it remained so until closed in 1983. Remaining stocks are over 35 years old, rare and highly prized.
×
This is an approximate rendering, actual position of engraving will be on the back of the bottle.
Personalise Your Bottle
Make this product extra special for yourself or create the perfect gift with an engraved message. Please input up to three lines of text for your message. Engraving Available in English and Chinese.
Guidelines on message content:
No foul, hate or discriminatory language
Nothing to suggest inappropriate consumption of alcohol, i.e. consumption by those below legal purchase age
Any mention of names in the message should have a valid reason doing so
Please select an engraving before agreeing to the Terms of Service.
Tasting Notes
Appearance
Deep amber to rich, antique gold.
Nose
Delicate and fragile. Shy, then rich and tart. Sweet, floral notes of dried flowers and oil, in a dusty oak drawer. Like a bowl of extremely ripe fruit left in the sunshine; plum, peach and red apple. Hints of sawn oak, mint and white chocolate truffle. Unexpectedly light and balanced throughout.
Body
Medium. Thick textured.
Palate
A voluptuous mouthfeel and a big, soft, sweet taste, with juicy hints of apple, then oak shavings and gentle spice that together evoke an artist's studio. A soft, fleeting and subtle floral note.
Finish
Light, volatile, and longer than expected. Discreet spice; light wood, grape stems, raisins and subtly, more oiled wood.