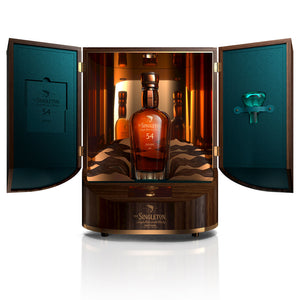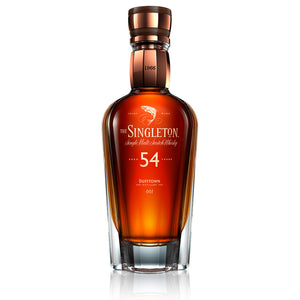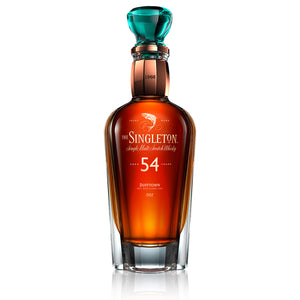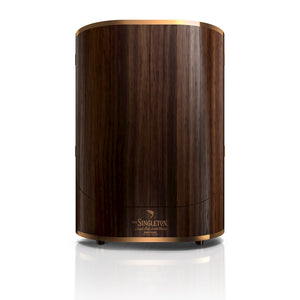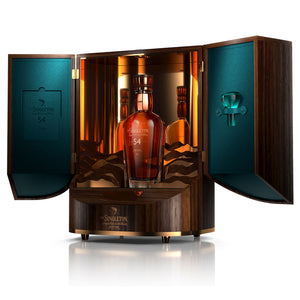 The Singleton Paragon of Time expressions are the oldest and rarest whiskies The Singleton has ever released – over half a century of skilled ageing embody the Paragon of Time series' masterful exploration of time itself. Such long-matured whiskies only attain real character and true richness through great skill and care; shaped to perfection by our slow-crafting tradition.
This special bottling was crafted in Duftown in the 1960s – over half a century ago. Every process was slow; barley malted and turned by hand on the drying foor. The craftsmen of the past devoted their lives to these slow-crafting ways. Aged for 54 years, The Singleton Paragon of Time No.2 celebrates a precious oak butt cask that was slowly hand-filled on October 31st, 1966 and sealed in time, destined to become The Singleton's oldest ever release. Finally, it was then given an exquisite final maturation using a Pedro-Ximenez Sherry-seasoned cask – a last act of mastery in the pursuit of true richness that only time, skill and patience can achieve.
×
This is an approximate rendering, actual position of engraving will be on the back of the bottle.
Personalise Your Bottle
Make this product extra special for yourself or create the perfect gift with an engraved message. Please input up to three lines of text for your message. Engraving Available in English and Chinese.
Guidelines on message content:
No foul, hate or discriminatory language
Nothing to suggest inappropriate consumption of alcohol, i.e. consumption by those below legal purchase age
Any mention of names in the message should have a valid reason doing so
Please select an engraving before agreeing to the Terms of Service.
Tasting Notes
Appearance: Rich deep amber.
Nose: Mellow, mild and dry overall. The top-note is richly winey, as with a vintage solera wine; this scent fills the room. Fleeting suggestions of maraschino cherry and wax furniture polish lie beneath this, on a dusty base of waxed cotton jacket and hemp ropes, or in the warehouse, earthy floors and hessian sacks. A balancing light bitterness emerges through the sweet fruit, while a drop of water introduces a note of mint toffee.
Body: Light
Palate: At natural strength delicate in texture; light on its feet,
lively for its great age and drying overall. Sweet in taste, beginning fruity and quickly becoming spicy. A Christmas pudding in a glass. Clove-studded oranges. Beneath, a bittersweet hint of burnt raisins.
Finish: Long, pleasantly warming and elegantly drying, with a light yet spicy sweetness, leaving a warm glow. A drop of water elevates the fruit and sharpens the finale."