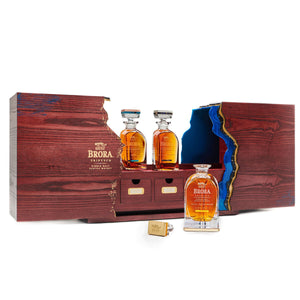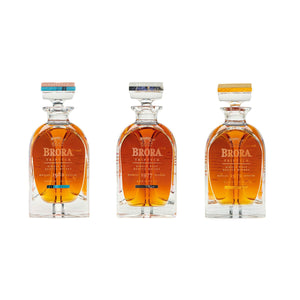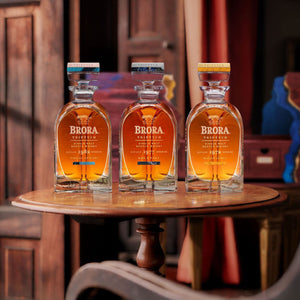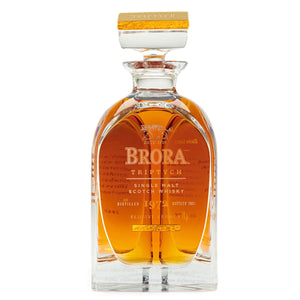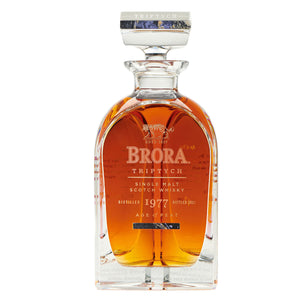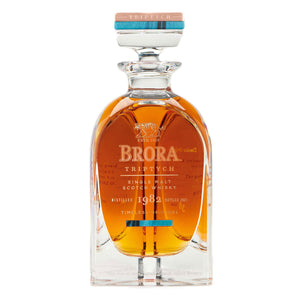 A truly special, once in a generation release to mark the momentous reopening of the mystical distillery 36 years after it closed. This type of bottling is so rare and special, with only 300 sets released, it is a genuine piece of history and art from one of Scotland's most fabled distilleries. A release of this kind will not be possible to replicate for another half century, or at least the year 2070. Brora Triptych is a truly special one – assembling a set of the three eras that epitomise Brora. Each liquid a celebration of restoration and an ode to the rare characteristics that define Brora whisky; waxy, peated and earthy. A collection of three vintages that define Brora never before released at once, this is a true collector's piece.
ELUSIVE LEGACY (42.8%): A rare style from casks of 1972, this whisky represents an earthy expression, only created in short periods throughout the distillery's history. This fleeting icon has grown to becoming a defining character from Brora.
AGE OF PEAT (48.6%): Brora's Age Of Peat, between 1972-1980 saw peating levels rise to meet soaring demand for blended whiskies. Highland whiskies were not renowned for their high levels of peat at this time. Today we celebrate these whiskies in their own right, with an expression drawn from casks of 1977.
TIMELESS ORIGINAL (47.5%): This expression is from limited stocks of 1982 and represents the distinct waxiness that made Brora famous. Returning to lower peating levels, reflective of Brora whisky before the age of peat, this signature style allows Brora's waxy character to truly sing.
×
This is an approximate rendering, actual position of engraving will be on the back of the bottle.
Personalise Your Bottle
Make this product extra special for yourself or create the perfect gift with an engraved message. Please input up to three lines of text for your message. Engraving Available in English and Chinese.
Guidelines on message content:
No foul, hate or discriminatory language
Nothing to suggest inappropriate consumption of alcohol, i.e. consumption by those below legal purchase age
Any mention of names in the message should have a valid reason doing so
Please select an engraving before agreeing to the Terms of Service.
Tasting Notes
APPEARANCE
Elusive Legacy: Warm chestnut in colour
Age Of Peat: Intensely deep and golden
Timeless Original: Glowing yellow gold in hue
NOSE
Elusive Legacy: A strong aroma blends wood spice with hints of peach tarte Tatin
Age Of Peat: This expression is elegant on the nose with creamy vanilla invigorated by freshly cut green apples and hints of beeswax
Timeless Original: Sherberty lemon peel, and a touch of fresh green grass dance on the nose
PALATE
Elusive Legacy: The taste takes off amidst a powerful rich maltiness, notes of Serrano ham, menthol and tobacco adding an intense complexity
Age Of Peat: A sweetness washes over the palate, before a wave of wood spice and ginger cake unfolds
Timeless Original: Wood spice is gently revealed on the palate, whilst a mouthcoating waxiness is punctuated by hints of citronella
FINISH
Elusive Legacy: The flavours give way to pervasive sichuan chilli pepper, before a wisp of dry coal smoke lingers long after the finish
Age Of Peat: Finally a long, sweet finish of peat-fires smokiness blooms in intensity
Timeless Original: Its graceful sweetness continues into the finish, with just a hint of lingering gunpowder smokiness